Chalet for 8 people
A unique, luxurious, atmospheric chalet in the Polish mountains.
It is situated in the charming Karkonosze (Giant Mountains), Lower Silesia, Poland, close to Karpacz City.
In the heart of the nature park 'Rudawy Janowickie' and Natura 2000 protected area, right next to the Karkonosze National Park.
Far from other buildings, surrounded by meadows and forest
Heated outdoor private swimming pool
Hot Tub, maintenance free, available 24 hours a day
Infrared sauna with healing effect
4 bedrooms with
king-size beds
Private relaxation zone at the chalet for 8 people

 
Private outdoor heated swimming pool
- backlighted in the evening.
Shower by the pool, sun loungers.
Swimming pool is availabe from May to September, heated up to 31 deg. C from 13 of Jun to 25 of September 2022. 

Hot Tub maintenance free for 6 people hydromassage and backlight (optional)
– available and ready to use 24 hours a day.
You do not need to wait until it warms up!

Infrared sauna for 2 people (optional) - available all year round.
Read more...

Sandy Horse - Luxury Chalet
  chalet for 8 people with 4 bedrooms, 2 bathrooms


All year - wooden house.
Its unique, ecological features ensure a friendly and healthy microclimate for relax.

The area of the house is not fenced - roe deer and doe are frequent guests.


Living room with great window sites and large   terrace offer fabulus mountain view and nautre outdoor space: a naturalistic, extensive garden,  meadows and forests.

Spacious open plan lounge with classic traditional fireplace resplendent with two large sofas to recline on, a stylish coffee table next to flickering fire and views over the mountains.

The interior design is enriched by exposed 120-year-old wooden beams, original paintings, hand-made decorations and stylish furniture.

The gorgeous open kitchen (next to living room) is the perfect playground for the keen chef, host to everything you could possibly need to rustle up feasts.

Direct access from the living room to the large, covered, terrace with scenic mountain views and  furniture which invites you to linger.

From the terrace, you can comfortably go to the outdoor hot tub, swimming pool and sauna.

In the fresh air there is a barbecue spot and a fantastic place for an evening bonfire.
There are four beautiful and bedrooms to choose from, all located on the first floor.

Bedrooms have continental - double king-size beds on warm wooden floors. Blinds and curtains allow you to fully darken the room.

High-quality down linen provides a comfortable sleep.

Each bedroom has a balcony with a view of the mountains or forest and meadows.

On request, we can prepare a cot with a mattress, a set of bedding, a high chair and a bathtub.

On the first floor and on the ground floor there are spacious bathrooms with comfortable walk-in showers with hot water 24 hours a day.

In the home garden, we have prepared a playground for children, where they will find a mini climbing wall, a trampoline, a swing and a sandbox.

For active guests, there is also a volleyball and badminton court with game equipment (seasonal).

Amenities of

the chalet for 8 people


chalet area: 120 m2


Kitchen

• Side-by-side refrigerator with ice maker

• Dishwasher

• Oven

• Microwave

• Washer-dryer

• Pots, tableware, cutlery,

• Cleaning agents and washing accessories

• Coffee, tea, sugar, salt

• Induction hob - 4 fields

• Cordless kettle

• Toaster

• Hand blender

• Automatic coffee machine


Bedrooms

• King size continental beds, double: 4

• Down bedding

• Wardrobe with hangers


Living Room


• Traditional fireplace

• Home theater, TV 58 "

• Radio,

• A sofa set, a bench

• Table and 8 chairs


Bathrooms

• Walk-in shower

• WC

• Hand basin

• Hairdryer

• Cosmetics, hygiene articles.

• Towels


Outside

• Seasonal heated swimming pool

• Hot tub (maintenance free)

• Infrared sauna

• Playground (mini-climbing wall, swing, slide, trampoline)

• Grill

• Place for a bonfire

• Sunbeds (seasonal)

• Terrace furniture

• Vast green area around the house
Detailed equipment will be sent after booking.

Floor plan

of chalet for 8 people

chalet area: 120 m2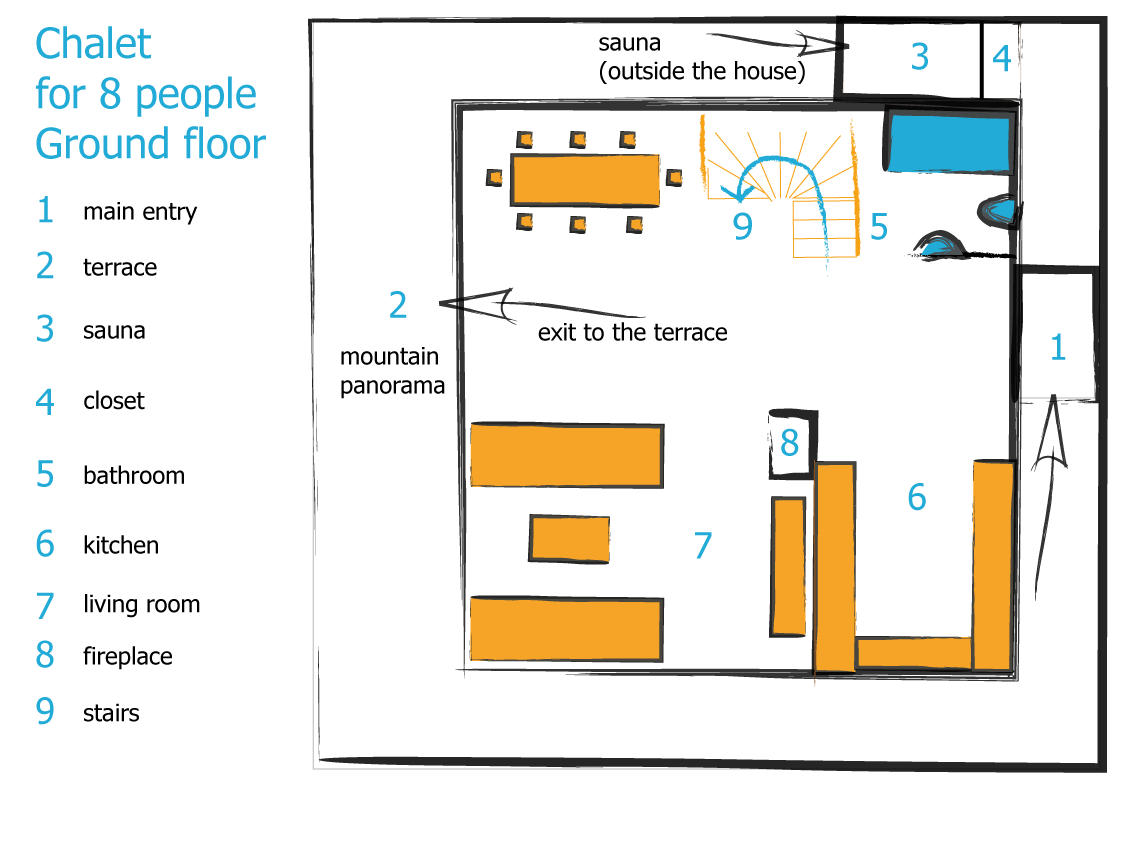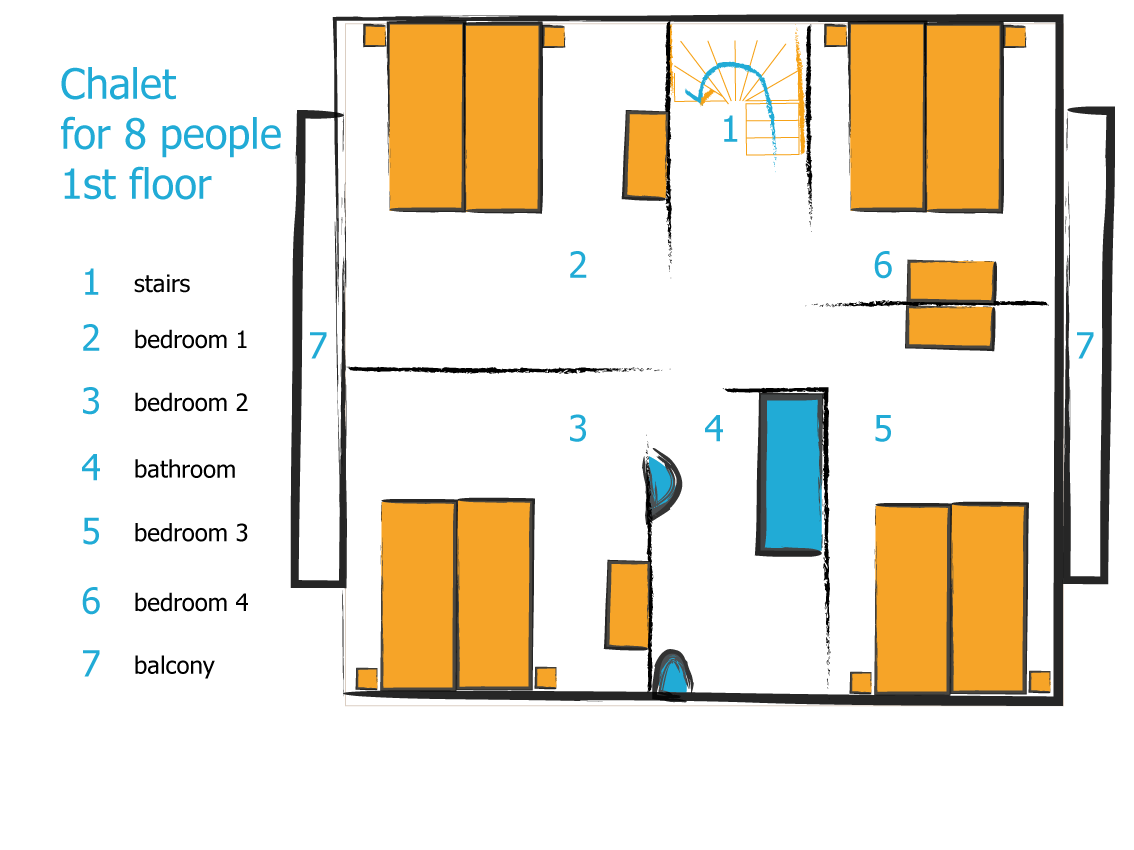 Safety and comfort
of stay
at chalet for 8 people


The chalet and all infrastructure for exclusive use

Contactless check-in and check-out at each house.
Each house has an independent entrance, parking and recreation area - for the exclusive use of registered guests.
The Sandy Horse houses are approx. 100 m away and separated by a row of old trees.
Comfort and safety during your stay
The bedrooms are equipped with external blinds and blackout curtains.
Balcony doors are protected against uncontrolled opening by children.
A carbon monoxide detector has been installed in the chalet and a fireplace cover is also available.
Maintaining hygiene and cleanliness

We apply a 30-hour break between guests' stays.
We use professional disinfectants, including for cleaning kitchens, bathrooms, door strips, remote controls, keys, etc.
Towels and bed linen are washed with specialized detergents, bed linen is mangled (high temperature).
Before guests' arrival, the sauna is heated and ozonated.
The pool water is regularly chlorinated and filtered (the chlorine level is systematically verified).
The hot tub is filled with fresh water each time before the guests arrival and is subject to permanent disinfection and filtering during whole stay.
Recreation area
The recreational area is unfenced. The chalet is surrounded by forest and meadows.
Distance from the chalet to the main road is approx. 140 m. A flat gravel road leads to the house.
The swimming pool next to the house is unfenced and open in the summer. It is also partially filled with the water during the Winter time.
There is a small natural pond with fish near the chalet which is not fenced.
There is CCTV outside the house. The camera monitors the driveway, parking lot and playground.
The bedrooms are upstairs. There is a necessity to climb wooden stairs.
Nature
Wild animals come to the vicinity of the chalet - mainly deer, hares and foxes.
In summer, the presence of insects must be taken into account. Small birds can nest at the terrace arcades.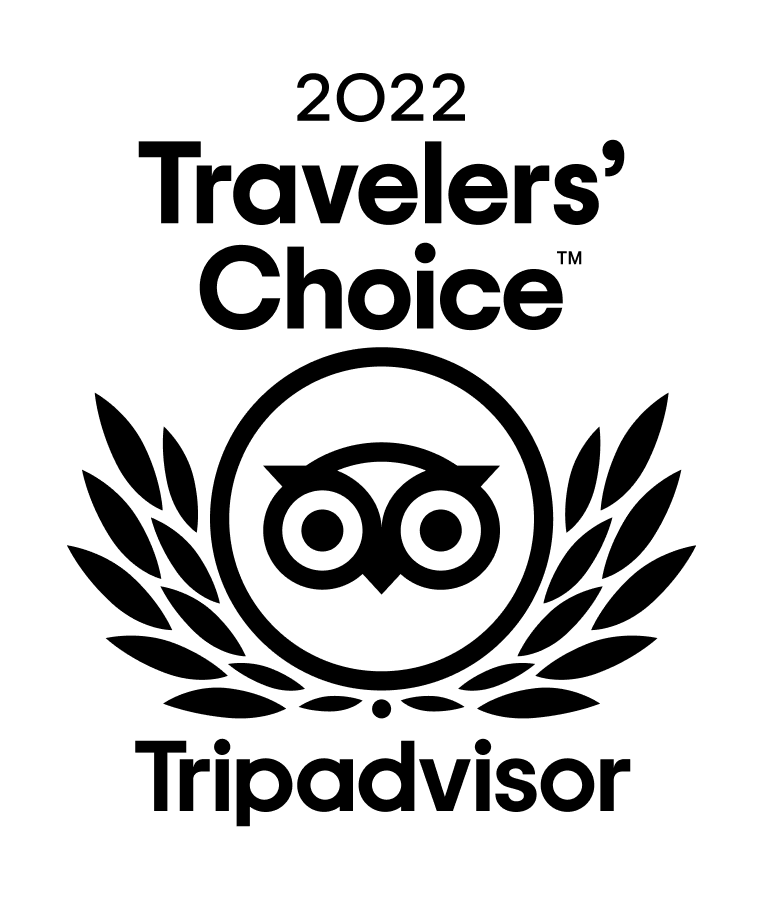 Free parking at the house.

Wi-fi - fast Internet - free.

Pets (small dogs) are welcome, after agreeing on the terms of stay.

Karpacz & Śnieżka Mt.: 25 min.